by Jean's grandson – John Mark Williamson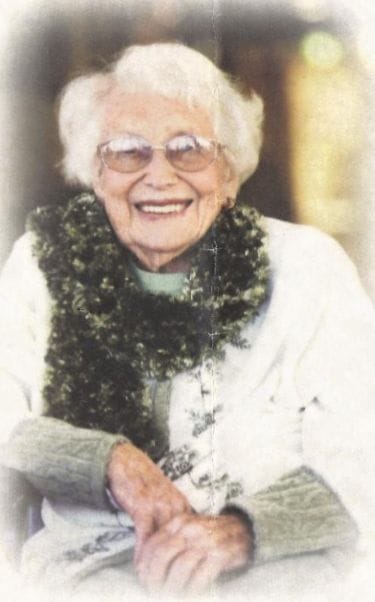 Gran lived right through the greater part of the 20th century and lived a century herself in doing it. This was a great achievement when you consider those times and how Australia was affected by world events in one form or another.
Gran's childhood was growing up while Australia was fighting for the Empire in World War One, quickly followed by the incredible Spanish Flu pandemic. We must remember there were no antibiotics in those days and Penicillin's discovery was another 10 years away. Gran would often tell us how her Father survived this pandemic, despite visiting and helping suffering families, because he chewed tobacco which she maintained killed the germs before they could get into his body!
While going through all this, Gran was educated at Arncliffe School and, in her teen years, she achieved her "Cap and Gown" from the London School of Music the equivalent of a Diploma or Degree in music today. From this Gran went on to teach music at St. Francis Xavier School at Arncliffe.
No TV! These were days of early radio. Radio in Australia was growing rapidly and becoming popular. Gran became a featured singer on station 2UW in Sydney with a very fine Mezzo Soprano voice. She continued to use this gift later on with choir singing in her local church at Bexley as well as in the Billy Graham Crusades of 1957 and 1968.
As Jean grew into early adulthood with her three sisters, they all became, as was the fashion of the times "flappers", which in turn introduced Jean to her favourite jewellery "Pearls". The fashions have changed many times since, but the love of pearls never stopped for Gran.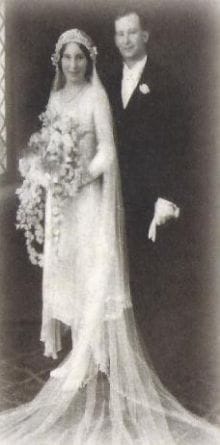 Gran, was also at this time being courted by her husband to be, George. Over the six years of courtship Jean and George were very much into the life that was going on around them in "happening Sydney". They went on a "joy flight" with Charles Kingsford-Smith in his famous "Southern Cross" aircraft above and around Sydney; they were at the opening of the Sydney Harbour Bridge in 1932 when Captain De Groot pushed past them on his way to beat Premier Lang cutting the ribbon to open the Bridge — exciting times in Sydney in those days.
After their marriage in 1932 they moved into their new home built on the Preddey Estate in Bexley. This was the start of 55 years of happy and exciting events including the birth of their daughter, Gloria.
When the 2nd World War started, George immediately built a very sturdy backyard air-raid shelter equipped and even fully stocked for a long stay if necessary. George never did anything by halves. When the first siren sounded across Sydney announcing the Japanese submarine attack In Sydney Harbour, George rushed out to his warden duties in the streets of Bexley. Jean and her young daughter, Gloria, meanwhile dressed and hurried to the shelter… only to find it already full of neighbours, so much so, they couldn't even get in themselves!
For the last 20 years or so Gran lived with Gloria and John at Blakehurst.
A large part of her life evolved around her church activities, teaching Adult Sunday School at Bexley. Using this gift of teaching Gran was a Counsellor at both Billy Graham Crusades in Sydney, guiding enquirers regarding the decision they had made for her beloved Lord Jesus.
Gran also taught Scripture at various schools in the area around Bexley. It was during this time she picked out a young gentleman, Peter Ferguson, as a possible future husband for her Grand-daughter, Kate.
Up until 2 years ago Gran was still taking Bible studies in her home at Blakehurst where she lived with Gloria and John.
A few weeks after Gran fell and broke her leg at Blakehurst she moved into Huntingdon Gardens at Bexley.
While there Gran turned 100 and received so many letters from some very important people round the world, including the Queen of course, that we were all humbled to be there and to have been part of her life.
During her stay at Huntingdon Gardens each staff member bestowed so much love, time and very personal care on her that we shall be forever grateful.
As I close this tribute to a great and loving Mother, Grandmother and Great-Grandmother I will read one of Gran's favourite Psalms, Psalm 100 – Psalm of Thanksgiving
Make a joyful noise unto the Lord, all ye lands!
Serve the Lord with gladness: come before his presence with singing.
Know that the Lord, he is God: it is he that has made us, and not we ourselves; we are his people, and the sheep of his pasture.
Enter into his gates with thanksgiving, and into his courts with praise: be thankful unto him, and bless his name.
For the Lord is good; his mercy is everlasting, and his truth endures to all generations.
Mrs. Preddy was an exceptionally dear lady and long-time member of our Society. Many thanks to her family for providing us with this information to share with you.
This article was first published in the May 2012 edition of our magazine.
Browse the magazine archive.