July 1970, saw the demolition of the original Cottage Hospital of St. George. It was a nostalgic moment as the last of the unique brick and concrete chimneys tottered and fell.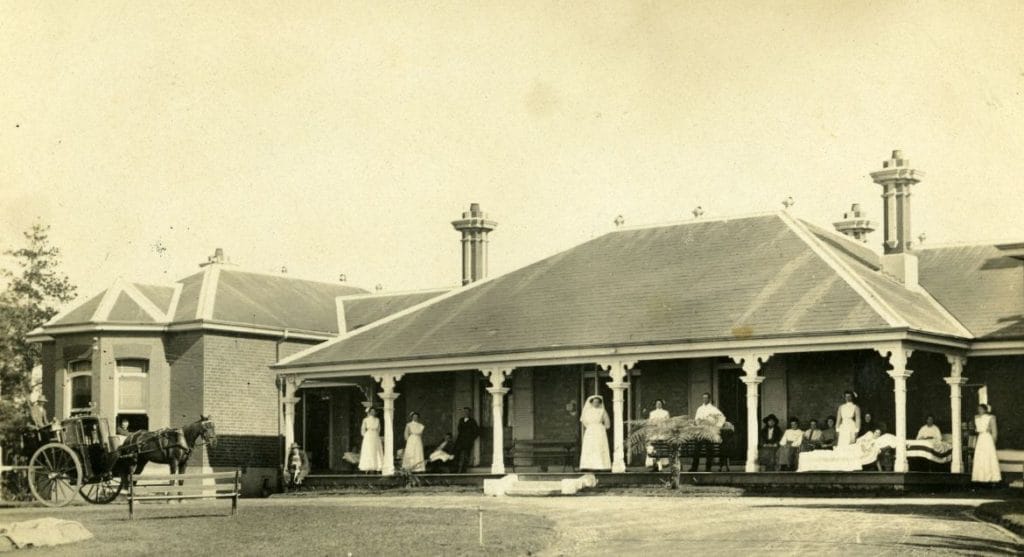 The last patients in "A & F", as the original hospital has been known for some years, were transferred to other wards mid December last, Since then the original wards have been stripped of handles, locks, fireplaces, honour boards, plaques and all that was of possible historical interest. It is interesting to note that the huge lock of the front door is now the proud possession of one of the present-day Honoraries, himself a member of this Society. This was the lock in which Mrs. Lamrock, wife of Dr. J. Lamrock, would have turned the key to open the Cottage Hospital, on 16th December, 1894, exactly 75 years before.
"A & F" meant many things to many people. To the older generation of the community it has been the Hospital, for most of their lives. They and it have grown older together. A fact the younger generation find difficult to appreciate at times.
As one watched the inevitable mounting pile of rubble, the burning of the interior, the falling of the palms, many contrasts came to mind –
the growth of St. George in 76 years, from the original 8 to now well over 400 beds,
the astronomical rise in costs,
the mini skirted uniforms of the 70's, to the maxi's of the originals.
the availability of parking space and lack of transport of yesteryear, to the lack of parking and increasing transport of today. And now, the Honoraries have lost their "Circle".
the almost constant wail of sirens, a bleak reminder of the cost of progress. Accidents there have always been, but never with the road toll alone, of the present.
the compactness of the original cottage, to the spread-eagled buildings of today.
the tremendous advancements in medical and nursing skills in the intervening years.
As one passes to remember, tribute is paid to those in all fields who so long ago laid such strong foundations for the Hospital that has served the ever-growing community at all times. As then – so now. Patient care is still the primary concern of the Hospital. Postgraduate and undergraduate teaching is subsidiary to this.
The saga of the 70's is being written. St. George stands pulsating with growth and expectancy as the rubble is cleared and preparations made for the erection of the new multi-storey block, whilst at the same time maintaining essential services to the community. No mean feat. Already new strides have been made as St. George has swung into the 70's with the completion of the newly established Professorial Units in Medicine and Surgery. When the history of the 70's is complete the names of Professors W. R. Pitney and K. R. Cox will join the list of St. George firsts, as being the first appointed full-time Professors of Medicine and Surgery, respectively.
Following are the names preserved for posterity, taken from the lists and plaques previously housed in "A & F". Each will serve to revive the memories of yesteryear.
Foundation Stone:
"This Stone Was Duly Laid By
Mrs. F. S, ELLIS HOLT
of "SYLVANIA"
on May 19th 1894."
Hallway – directly opposite the front door –
St. George District Hospital
Erected in Memory of
WILLIAM CHEETHAM HORN
who passed away 2nd August, 1943
After 30 years service.
Faithful Unto Death
A tribute by His Fellow Employees
Matron & Nursing Staff (Male & Female)
List of Benefactors:
St. George District Hospital
Benefactors £50 & over
1906 Isaac Mathews (Estate of) £63.
1912 W. R. Hall (Estate of) 200
1915 Mrs. Berdoe (Estate of) 60
1915 C. Howard Wood Esq. 100
1916 Mrs. A. C. Sturt (Estate of) 100
1917 Mrs. Coulson (Estate of) 200
1918 D. Draper (Estate of) 117
1919-20 Lieut, H.L. Montague 147
1921 J. Palmer (Estate of) 200
1923 MaryAnn Dewar (Estate of) 200
1923 Mrs. Edwd. Arnold (Estate of) 50
1924 F.E. Rowe, Esq. 55
1925 J. Powell (Estate of) 100
1925 Donated by Residents of Cronulla in Honour of late Mrs. C. J. MONRO 101
1925 P. J. Moore (Estate of) 50
1926 Mrs. J. Packham 50
1926 Dr. James McLeod Memorial Fund 200
1927

T.E. Rofe, Esq. 550
J. Jackson Esq. 52.10.
R.W.S. Harris, Esq. 55
A.E. Daiwood, Esq. 50
Mrs. D. McAlister 51.1
J. Dolden, Esq. 50
N.P. Nielsen, Esq. 59
W. McConnochie, Esq. 50
H.T. Morgan, Esq. 50
Miss Phyllis Stroud 50
Cronulla Surf L. S. Club 50
Nth. Cronulla Surf L. S. Club 50
J. P. Hubbard (Estate of) 100
Edwin Godfrey (Estate of) 393
Chas. Thomas (Estate of) 50

1928 Edwin Godfrey (Estate of) 193.15.9
1928 W. McConochie, Esq. 150
1929 Arthur Horsfield, Esq. 50
1930

Mr, C. McAlister (Estate of) 3000
Mrs. K.B. Thornton (in Memory of John F. Thornton 100
Masonic Lodge Illawarra St. George F. Wilson, W.M. 121.0.8
Masonic Lodge Kogarah J.H. Laws, W.M. 123.14.10

1934 Edwin Godfrey (Estate of) 199.16.9
1934 Illawarra S.F.S. Asscn. 120.3.0
1935 Mrs. Elva Kolling 1500
1943 A.H.J. Horn, Esq. 50
Beds Endowed By
Arncliffe Parents & Citizens Association
Como & District Progress Association
Cronulla School Cot Fund
Green Coupon Company
Hurstville Superior Public School
Lancashire Brotherhood of N.S.W.
St. George Cricket Association
South Hurstville Public School
Carlton Citizens Association
Mr. & Mrs. Tom Yates £100. Annual Endowment
Cambridge Commercial College Hurstville. 1937. G. A. McKenzie F.P.S.A. Principal.
Sutherland Auxiliary 1939.
Pupils of Oatley Public School
Kogarah Mayoral Bed S. R. Bell. Jan, 1940. Mayor of Kogarah.
Caringbah Hospital Auxiliary
Mr. & Mrs. H. Bentley of Kogarah. 1939.
Sutherland Auxiliary 1937.
The Ladies Committee of St. George Cricket Club. 1939.
The Arncliffe Social Club. 1940.
Two by St. George Christian Endeavour Union Golden Jubilee. 1943.
Arncliffe Ladies Bowling Club.
1st Arncliffe Girl Guides.
Miss J. Graham, Brighton le Sands.
"Theodosia" Bed. Donated by Mrs. E. M. Bentley, Kogarah.
In Memory of Mrs. Otto Richardson . . Mrs. G. Wallis 1940.
Donated by Mrs. F. Thorp, Rockdale.
This article was first published in the August 1970 edition of our magazine.
Browse the magazine archive.