Cooks River has always played a part in the history of our Municipality therefore, Mrs. I. E. Currey, of the Canterbury and District Historical Society, thinks its story should be told in this the year of the probable sighting of the river by Captain James Cook.
Captain Cook, after whom the river was named, apparently rowed up the stream as far as where the Princes Highway now crosses it. Cook spoke of the area as being banked by lovely meadows where many hundreds of cattle could browse. The foreshores were at this time lined densely with mangroves and other trees.
Exploration of the River
In September 1789, Captain John Hunter (later Governor Hunter) probably entered Cooks River after exploring Georges River. However he was not greatly impressed, as he described one journey of about five miles up the river to have been mostly through shoal waters.
In December of the same year, Lieutenant Bradley was sent to explore the north-west branch of Botany Bay. There he found a creek about eight. miles in length. The description of this stream was "winding shoal channel,, ending in drain to a swamp., all shoal water".
The name Cooks River does not seem to have been given the stream until 1798, for in this year Governor Hunter sent home a map to England of the area around Sydney Cove. On this map Cooks River is named, but on a previous map in 1796, it was not mentioned.
After the first land grants in the district, the river came to play, an increasingly more important part in the lives of the people affected by it.
Some of the leading citizens of the young colony began to build homes in this., then outer-area of Sydney. In 1831, on the Arncliffe side of the river, Alexander Brodie Spark. built a fine mansion which he called 'Tempe'. This lovely home is still in existence, beautifully preserved and is owned by a Roman Catholic order of nuns. It can be seen from the road bridge over the Princes Highway at Tempe.
The Unwin family built their pleasant home on the river at Undercliffe and called it "Wanstead". It was later occupied by Edward Campbell, merchant, and, was still kept on by his widow after his death.
There was also "Undercliffe House", in which at one time, Mr. P.A. Thompson, a solicitor, lived. It was a neat cottage made of stone and contained 9 rooms, It was built on that part of the river where the cliffs are steep and so gave the residence its name.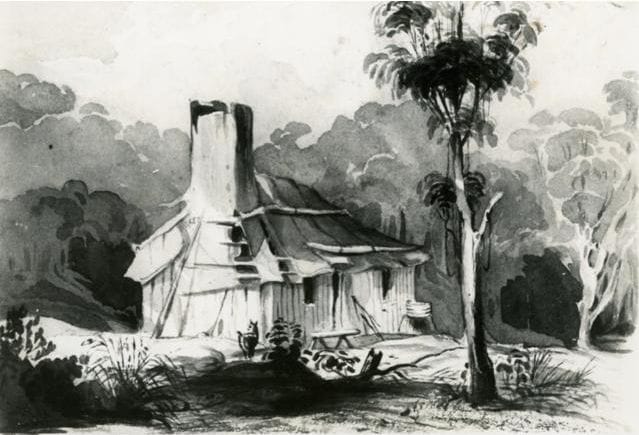 A little further up the river on the right bank, during the 1860's, Mr. Thomas Holt built a mansion of 'noble proportions'. This home was on the hills overlooking Marrickville, and could be seen for miles, Mr. Holt called his home "The Warren".
Two stone pillars, all that are left of this one time lovely building, have been erected at Richardson's Lookout by interested citizens of Marrickville, can be seen from the train before entering Sydenham Station on the left hand side going from Marrickville. Station.
The River Crossings
To get to the various residences, farms and grazing lands along the river banks, the owners had to construct fords, punts or bridges. Thus many of the early bridges were frail affairs.
We have a record from James Meehan, an early surveyor,, in which he mentions Laycock's Bridge This is probably the same 'slender bridge' mentioned in 1810 by Governor Macquarie, near Hannah. Laycock's farm, Kingsgrove.
A dam was constructed across the river near 'Tempe', by convict labour, in 1835. This, for many years. was used as a ford as well. There is of course a very busy road bridge across the river on the Princes Highway now.
An article in the Sydney Gazette of the 1st August 1883, says, "We understand that Mr. Prout finished a large, substantial punt at his residence, Cooks River", This punt was used until 1839, when the same Cornelius Prout built a bridge over the river. For many years this bridge was known in the district of Canterbury as Prout's Bridge. There was also a smaller bridge across the river up towards Enfield. This was called Miller Bridge, after the farm nearby.
At a later date, a punt was established about half way down river, between Prout's Bridge and Tempe Dam. This was known as Thorpe's Punt. It was still in existence in 1854, when a bill was passed in the Legislative Council to give Mr. Fisher and Mr. Thompson power to build a bridge over the river. About 1835, a second road to Illawarra was opened and a punt used to cross the river. This was later succeeded by a bridge built about 1840 by Mr. F. T. Unwin of "Wanstead". It was known as Unwin's Bridge. This bridge was still in use until 1889, when it was replaced by an iron and concrete span.
A bridge over the river at Undercliffe was built about 1870. It too, was replaced by a new structure in 1880. The present bridge over the river at this point is still known as Undercliffe Bridge.
After many suggestions by both the Canterbury and Marrickville Councils, a bridge over the river at Wardell Road was commenced in 1898 and was completed in the following year.
Many of these bridges have now been replaced and new bridges constructed in areas where expansion in the districts made river crossings necessary.
The older folk of our Municipality, no doubt remember Cooks River as a pleasant stream, lined with trees and flowing through a timbered countryside. Erosion, silt and commerce have all played their part in despoiling the rivulet in past years.
However, there is a resurgence of effort and will among many of our citizens to once again see the river banks as public parklands, and beautiful with trees. We have an association in the district dedicated to this scheme. Our Council too, seems to have in mind ideas for better usage of the small stream called after our great discoverer, Captain Cook, and perhaps one day we will see the banks along the river looking as he described them, 'lovely meadows and lined with trees'.
My appreciation to James Jervis and his History of the Canterbury Municipality and to the Canterbury and District Historical Society for the use of their journals. From these two sources came much of the material for this short history.
(By courtesy The Campsie News & Lakemba Advance 25.2.70., and written by Mrs. I. E. Currey, member of the Canterbury & District Historical Society. )
This article was first published in the June 1970 edition of our magazine.
Browse the magazine archive.