396 pages, published by Pan Macmillan 2011
Review by Laurice Bondfield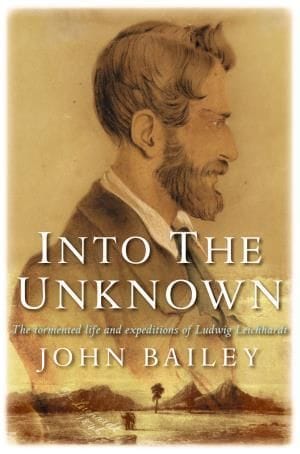 Another recently published book! The author, John Bailey has written two much praised books on Australian history: The White Divers of Broome and Mr Stuart's Track, and this book is sure to be another. There has not been much non-specialist writing published on Leichhardt and this book fills a gap. Leichhardt's life story and accomplishments as an explorer have often been overshadowed by the sensational fact of his disappearance and by Patrick White's novel Voss vaguely based on his character.
What do we learn from this biography? Firstly, how well educated Leichhardt was. Born to a poor farming family in the village of Trebatsch in Prussia, the sixth of nine children, he was sent at the age of six to a boarding school in a nearby village. As the author points out, except for holidays, he never lived with his family again. From there at the age of eleven he won a place against stiff competition in the Friedrich-Wilhelm Gymnasium in Cottbus. There is much fascinating detail about the political background of the Prussian defeat by Napoleon and the course the Emperor Friedrich-Wilhelm took to strengthen his country by reforming the education system and army.In 1831 at age eighteen, he graduated with the "Abitur" and entered the Fiedrich-Wilhelm University of Berlin (now Humboldt University) where he studied for six years (with a" Wanderjahr" (wander-year) at Gottingen University in the German tradition), constantly changing courses until he struck on the natural sciences which fired his interest.
Since childhood, he had been fascinated by the travels and scientific discoveries of Alexander von Humboldt in Latin America and longed to emulate them. A holiday walking and camping in the Harz mountains strengthened this resolve. A friendship with two English brothers John and William Nicholson led to a trip to England and a period in London then Paris, studying the collections at the famous museums in these cities and attending the free lectures offered by these institutions as well as walking tours in France and Switzerland observing and collecting plants and rocks. One problem faced Leichhardt – like all young Prussian men he was required to spend a time in the military, which interested him not at all and which he tried to avoid.
Finally with the help of William Nicholson, whose brother was migrating to Australia, Leichhardt set out on the Sir Edward Paget in 1841 bound for Sydney. He felt Providence had offered him a chance to lead the life he had always wanted in a land where so many mysteries both geographical and natural needed to be solved. From the moment he arrived he was fascinated by the land and determined on leading a journey of exploration as soon as he could. He travelled extensively in the Hunter region and northern N.S.W. and Queensland, sleeping rough and learning how to live on the land. In 1844 he began his first and most successful journey to Port Essington (near present day Darwin).The account of this expedition is harrowing. The expedition was meagrely funded and Leichhardt made poor choices in the men to accompany him. Nevertheless in 1845, after most people in the colony had given him up as dead, he and his ill-assorted companions reached Port Essington. On the journey Leichhardt's hardiness, botanical knowledge and willingness to try eating "Everything that grew, flew, swam, hopped, ran or slithered" saved them from starvation: bandicoot, a joey, kangaroo, cockatoo, lorikeet, emu, fish, eels, mussels, goanna, snakes, native lemons, nonda plums, palm hearts, bush honey, caper bush berries cassia pods cordia tree fruit all were consumed when flour, tea and sugar ran out. He even found passable substitutes for coffee and tea!
On his return to Sydney, he was lionised by society, which did not suit him at all and he hurried to plan and begin another expedition to cross the continent and reach the Swan River settlement. This was an unmitigated disaster: constant rain, sickness and dissension among another ill-assorted group forced him to abandon the attempt. Humiliated by this disaster and by hostile stories spread by his former companions, convinced Providence was deserting him, he hastened to set out again in 1848. On 5th April he and his six companions rode out from Cogoon Station in the Darling Downs heading west and were never seen again.
The author details attempts to find him or any remains-over nine different expeditions with little result. After all, there is a huge area to cover and Leichhardt did not give any precise indications of which way he intended to go. Bailey also lists the common explanations of what could possibly have happened to the group-no theory has any persuasive evidence to back it. All that remains is a nameplate from a gunstock-not even the stock itself was kept. The gunstock was found wedged into a fork in a tree and no-one could explain how it came to be there as no other items or bodies were found anywhere near.
John Bailey has written a detailed and intriguing account of one of the most mysterious episodes in Australian colonial history. His portrait of Leichhardt -driven by a thirst for knowledge, by an insatiable desire to explore the unknown- is compelling. Highly recommended to all who love biography and mystery.
This article was first published in the January 2012 edition of our magazine.
Browse the magazine archive.