Sarah Bellamy was born in the small Worcestershire village of Belbroughton, the sixth of eight children of Richard and Elizabeth Bellamy, and was baptised on February 3rd 1770 at Holy Trinity Church. The church stands upon a former pagan Saxon burial ground, whilst the village of Belbroughton itself can proudly trace its origins to an ancient settlement recorded in the Domesday Book. It was a village with a proud reputation for its scythe-making industry, which dated from the mid 16th. Century right up until the 1960's, when it was finally superseded by modern technology. The unique and attractive village sign, together with the many old millstones which serve as front doorsteps and garden ornaments, bear witness to a thriving industry not long past.
The Bellamy family lived in a small cottage tenement administered by the Parish Overseers. In 18th, Century England, each parish was responsible for the care of its poor. Money raised by a levy on householders was distributed to the needy by the Overseers, who were answerable to the parish. Records, which had to be strictly kept, show that Richard Bellamy was a recipient of such payments.
It was also common for the Overseers to find employment for the children of the poor, which they did with compassion. So it was, sadly, that on February 7th, 1779 – at only nine years of age – Sarah, like her brothers and sisters, was apprenticed to James Spurner, the Overseer at Malthouse Farm, Fairfield. The malthouse was a very large, two-storeyed brick building that, apart from the malt factory, also included the residence of the Overseer, the servant's quarters and a coach and harness room. It is occupied to this today, and the land is still being farmed.
It is quite possible that Sarah never saw her parents again, nor her homely village. No oracle could have foretold that she was destined to be part of history, as one of the founding mothers of a great nation far beyond the seas.
Seven Years Transportation
Whether Sarah served her full, five year apprenticeship at Malthouse Farm is not known; but in May 1785, she was in service to Benjamin Haden, a weaver in Dudley. In that month, Sarah was summoned to appear before the Summer Assizes at Worcester, charged with stealing from "the dwelling house of Benjamin Haden, one linnen purse, value 2d., 15 guineas and 1 half guinea, the property of the said Benjamin Haden, and 2 promissory notes, value 10 pounds and 5 pounds and 5s." It is interesting to note that Benjamin Haden, together with his wife Sarah, also had to appear before the court to acknowledge that he owed the King "the sum of Forty pounds of good and lawful money of Great Britain," In other words, he was bankrupt!
On Saturday, July 14th, 1785, Sarah was sentenced to be transported for seven years 'for stealing fifteen guineas and a half" She was only fifteen years old, and the only female before the Court; but the sentences of some of the six males who were arraigned with her were, by comparison, amazingly lenient: "John Meredith, for stealing articles out of a barge; to be publickly whipped this day at Upton and the following Thursday; Richard Crump, for killing Richard Bourne, found guilty of manslaughter, fined one shilling."
Though Sarah prayed to be "publickly whipped" instead, her pleas were ignored; the sentence of transportation stood. On May 13th, 1787, Sarah Bellamy was one of the 101 female convicts aboard the Lady Penrhyn, one of the First Fleet ships that carried only female convicts bound for Botany Bay.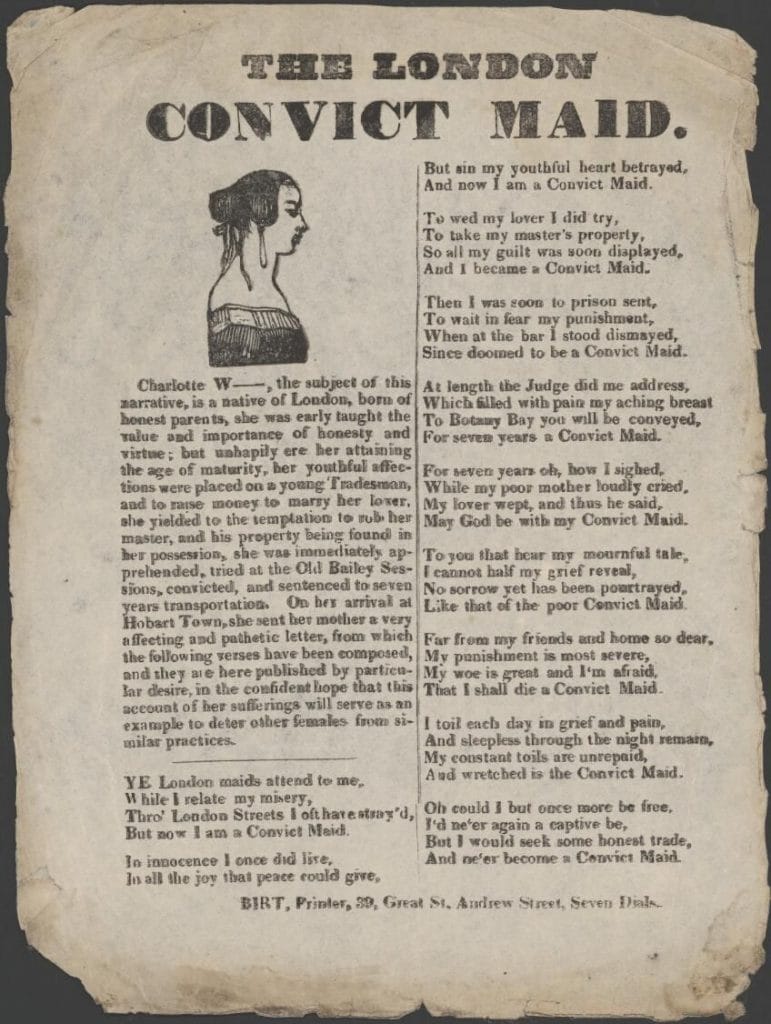 A Storm At Sea
What a welcome the New Year brought! At sea, on December 31st, 1787, Surgeon Bowes Smythe recorded: "This day, the women (of the Lady Penrhyn) were washed out of their berths by the seas we shipped. The water was brought out from between decks in buckets – the seas were mountainous high; sometimes it seemed the ship was going over." The women convicts knelt and prayed.
Towards the end of the voyage, Sarah bore a child to Joseph Downey, acting Quarter Master on the Lady Penrhyn. Little Joseph lived only a few weeks, dying on February 29th, 1788.
The New Land
We next hear of Sarah in Sydney Cove, where she was one of the few female convicts permitted to live in her own small hut on the east side of the Tank Stream.
Late one evening in August 1789, Sarah was awakened from her slumbers by a loud knocking on the door of her hut. Two officers, Captain Meredith of the Marines and Mr. Keltie, master of the Sirius, who had both imbibed too much, decided to call in on her on their way home. When Sarah refused to open the door, Captain Meredith went to the side of her hut and pushed on the window shutters, which fell in onto her bed, and, as he leaned in, his hat also fell onto the bed.
When he then began to pull her hair and beat her, Sarah cried "Murder!" so loudly that the nightwatchman was alerted, and came running. She opened the door to him, but when he asked for a lamp, she replied that "the hour is too improper for a light!"
What courage she had, to then appear before the Justices, "resolved in her own breath" to make the accusation that the two officers "had disturbed her peace" and that she "was determined not to put up with such unmerited treatment from Captain Meredith, or anyone else!" The case was found in her favour, but no action was taken against the two officers. However the following year the Marine commander, Major Ross, took Captain Meredith's company to Norfolk Island, while Meredith himself had to remain at Sydney Cove.
A Happy Ending
Sarah won the affections of James Bloodworth, who had made the first bricks in the colony and built the first Government House. He became Australia's first Master Builder after gaining his freedom; only the second person to receive "the highest reward the Governor was empowered to bestow on a convict". James was now also allowed to marry, and it was Sarah whom he chose to share his life and the house that he had built in South Row. It was here that their eight children were born, although unhappily four died in infancy. In 1794, Sarah was given a grant of 20 acres of land at Pyrmont.
Sadly, James Bloodworth died of pneumonia on March 21st, 1804, aged 45 years. Sarah Bloodworth was to survive him by almost forty years, dying on February 26th, 1843, aged 73 years.
Many thanks to our Honorary Chairman Nell Sansom, and her sister, Alice Clarke, for submitting the fascinating story of one of their ancestors for our feature article.
This article was first published in the March 2000 edition of our magazine.
Browse the magazine archive.