Arncliffe Heritage Walk
This two-hour walk features many fine Victorian and Federation houses and public buildings.
This guide was launched by Rockdale City Council during Local Government Week, August 1998 to encourage a broad appreciation of the city. It highlights points of interest in the 1991 Rockdale Heritage Study by Meredith Walker and Terry Kass. The Heritage Adviser, Gary Stanley, produced the guide. The council was merged in 2016 to form Bayside Council.
Arncliffe Railway Station
Starting at this Victorian style structure built in 1883, walk to Firth Street, which contains groups of shop built about 1900.
Arncliffe Post Office
This Federation style building was opened in 1906, and originally contained the residence of the postmaster upstairs.
Walk beside the Post Office up Coronation Lane across the carpark to Union Street. In this area a number of Victorian cottages can be seen, particularly in nearby Stanley Street. Houses built at a later date complete the streetscape. A walk up Tower Street, note this section includes steps, which will bring you to:
Towers Place Lookout
From this bluff there is a panoramic view over Arncliffe, adjacent are two very fine examples of early architecture, a large Federation house and a 1930s textured brick cottage.
Walking back to Forest Road note Esdaile Place, one of the most attractive streets in the city of Rockdale has won many garden awards.
Turning right into Forest Road. Originally Sir Thomas Mitchell's New Line of Road to the lllawarra formed in 1842. The road built on the ridge has commanding views of Botany Bay and was an attractive site for the grander houses built in the district.
No. 105 Forest Road
This house was built for Thomas Lawless in 1890, it was acquired by Edward Esdaile in 1910. Edward was an optical goods manufacturer and a prolific photographer, taking many magnificent shots from the Tower. Copies of these photographs are now in the Rockdale Library.
From Forest Road you can see:
No. 58 Roach Street
"MERYTON". A building contractor, Alexander Fell erected this house in 1885. The house includes a Captain's Walk, and retains its very fine cast iron on the verandahs and Ieadlight glass in the entrance way.
Nos. 134 and 136 Forest Road
"GLADSTONE" & "WENTWORTH" built in 1886 were built of rendered brick with double storey verandahs and lavishly decorated with cast iron lace featuring angels in the design.
No. 184 Forest Road
"COBURRA", an ornate rendered brick home more typical of the late Victorian era, than the period in which it was built (1905).
Turn right into Wolli Creek Road. To the left notice the extensive views over Botany Bay. Turn right again into Wollongong Road.
Wollongong Road was part of the original road to the lllawarra. It contains significant houses and still retains much of its Victorian sandstone kerb and guttering arid also brick kerbing built in the 1930s.
If time permits allow an extra hour for the short return walk and visit to Lydham Hall.
No. 18 Lydham Avenue
"LYDHAM HALL", is one of Rockdale's most important pioneer buildings built in 1860 of materials quarried locally by Swedish stonemason, Sven Bengtson for wealthy master butcher, Joseph Davis. The building is now owned by Bayside Council and is open to the public.
No. 215 Wollongong Road
"BELMONT", built in 1884 by two Irish brothers Thomas and Alexander Milsop, who made their fortunes in the goldfields near Forbes. They built identical grand Victorian homes; the other is No. 197 Wollongong Road.
No. 197 Wollongong Road
"FAIRVIEW".
No. 171 Wollongong Road
"DAPETO", one of the finest examples of High Victorian architecture in Sydney, built in 1885 by oyster merchant Frederick Gibbins (1841 – 1917). It is constructed of sandstock face bricks which were mixed with whale oil to protect the building against dampness, and had a patterned slate roof surmounted by an ornate Captain's Walk. Note the bandstand is recent.
No. 148-150 Wollongong Road
"STONE COTTAGES", these rare and unusual stone and face brick Federation style cottages were built around 1910. One retains its original chimneys.
Arncliffe Park
This park was originally the property of Mr Kim Too and was cultivated as a market garden. In March 1889 the garden was officially proclaimed as a public park. About 1904 the avenue of trees was planted about where the War Memorial is now situated. The park is edged with a fine stone wall and the four surrounding streets contain a collection of houses representative of the earlier periods of the City's development.
Cross Wollongong Road up Broe Street and Station
Street and back to Arncliffe Railway Station.
---
History
The Rockdale District was first developed as an agricultural area on the fringe of Sydney. The first land grants being given by Governor Macquarie in 1809.
Roads were cut through the forest and a dam built by convict labour in 1839 across the Cooks River enabled access to the district from Sydney. I lowcvcr it was the railway from Sydney to Rockdale opened in 1884, and the private tramway along Bay Street to Brighton which enabled land speculation. A number of villas and house resulted being built along the transport routes.
The latter use of the car enabled more land to be developed and "filled in" with houses.
In 1991 a Heritage Study was completed for the City of Rockdale. The Study outlined the history and development of the area and recommended buildings, parks and natural areas to be preserved.
Architectural Styles
Most heritage houses and conservation areas in Rockdale are Victorian, Federation or Californian Bungalow in architectural style.
The Victorian House (1840-1890)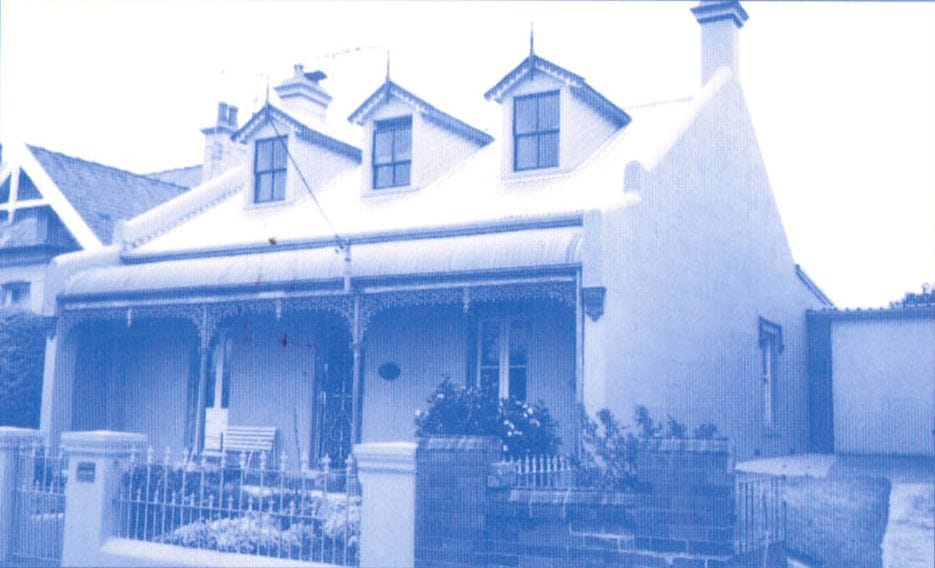 The average Victorian house in Rockdale was detached and single storey. The plan was asymmetrical with principal rooms having high ceilings. A verandah with it's own roof on one side and the principal room, a parlour or drawing room projecting under a hipped or gabled roof on the other side. Walls were usually plastered and painted, roofs iron or slate.
The Federation House (1890-1915)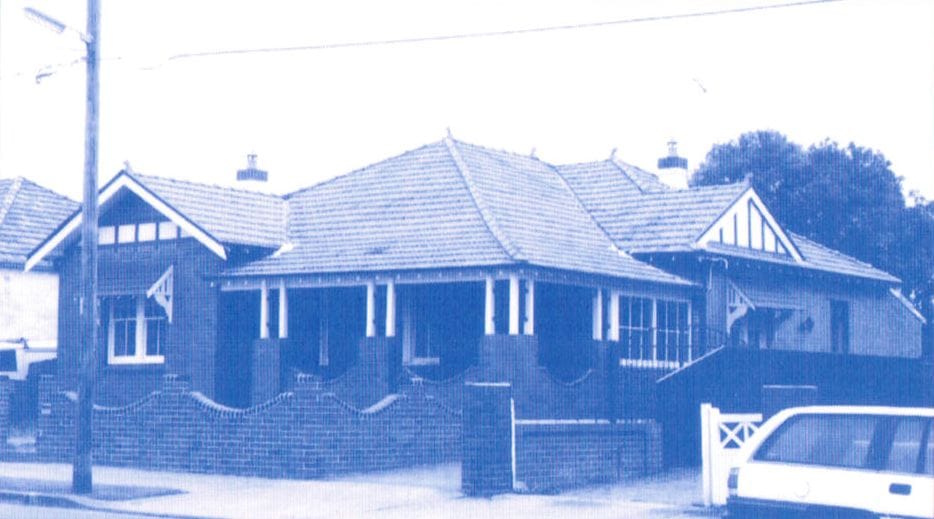 Often had the same Victorian house plan, but materials changed radically to include red brick walls and red tiled roofs.
The Californian Bungalow (1915-1940)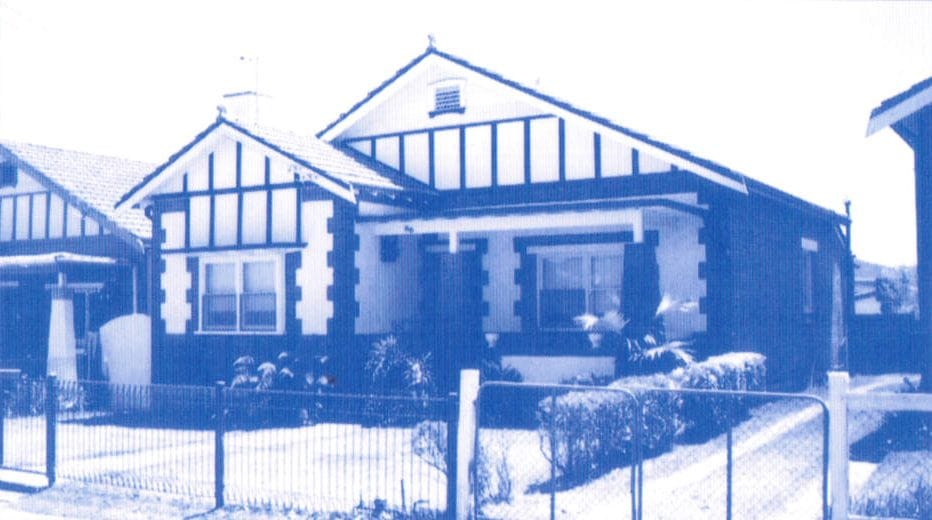 These houses were informal, asymmetrical, spread out structures, fronted by a deep verandah; materials; materials were dark liver coloured bricks, cedar shingles, stone stairs and leadlight windows.