Rockdale Heritage Walk
These one-hour walks feature many fine Victorian and Federation houses and public buildings.
This guide was launched by Rockdale City Council during Local Government Week, August 1998 to encourage a broad appreciation of the city. It highlights points of interest in the 1991 Rockdale Heritage Study by Meredith Walker and Terry Kass. The Heritage Adviser, Gary Stanley, produced the guide. The council was merged in 2016 to form Bayside Council.
Walk 1
Rockdale Railway Station
Victorian in style, the station was opened in 1884.
The bus turning bay outside was the terminus of the Rockdale – Brighton-Le-Sands tramway. Walk through the arcade of shops to the Highway, crossing at the King Street lights. The Highway was originally lined with Victorian style shops. Widening planned in the 1930's and completed in 1960's brought new Art Deco style buildings including the two hotels, and the Town Hall.
Turn left into Bay Street, the route of the tramway to Brighton-Le-Sands. On the left is a large rock outcrop, with Victorian style houses above.
Bay Street Uniting Church
Collection of historic buildings including sandstone Wesleyan Chapel, 1858, the church 1883, parsonage 1884. The site includes a cemetery last used in 1894 and redesigned in 1950 as a wall of remembrance.
Turn left into George Street which has been cut through rock and has a number of single storey Victorian houses. Take the upper road to Lord Street. The district views to the north are over the red roofs of Federation and Californian Bungalow style houses which form most of Rockdale's residential character.
Rockdale Public School
Rockdale Public School built in 1888 in Victorian style was previously housed in Bay Street Uniting Church. From here there are commanding views over Botany Bay.
Roslyn Hall
Roslyn Hall at 85-89 Cameron Street, was built in the 1800's in Victorian Italianate style and is typical of approximately 40 villas built within the City of Rockdale in the latter part of the nineteenth century.
Cameron Street has a number of fine Federation dwellings, typical of those found throughout the City. Turn left into Bryant Street which has a collection of Victorian cottages and also demonstrates the diversity of house styles within the City.
Rockdale Town Hall
Rockdale Town Hall was built in 1940 in the Art Deco style – architect G A Henderson. This building replaces an earlier Town Hall 1888, and contains the Library and Council's history collection, of early photographs, map and books.
St John's Church
The Church was built in 1897 but was extensively altered in 1938 and is an example of Victorian Gothic architecture.
Walk 2
Over the railway, this section of Rockdale was developed on land also granted in 1853, and has a wealth of Federation style buildings. Railway Street and Walz Street contain many shops dating from the 1900-1920 period, although most have been altered.
Guild Theatre
Built in 1912 the Rockdale Community Centre was oiginally the Rockdale School of Arts, typifying a Federation Building: red brick walls, terracotta tiled roof and timber windows and doors.
Continuing up Walz Street, turn right into Watkin Street. Named after local stonemason and Real Estate agent respectively.
St Joseph's School and Church
Built on land donated by German settler, Joseph Walz, the school is a Federation style building constructed in 1921.
Turn left into Ferrier Street which contains a fine group of Federation houses. Left into Clifford Street and right into Herbert Street, left into Tyrrell and left into Frederick.
A short diversion of this walk by continuing up Herbert street will take you to Lydham Hall.
18 Lydham Avenue
"LYDHAM HALL" is one of Rockdale's most important pioneer buildings, built in 1860 of materials quarried locally by Swedish stonemason, Sven Bengtson for wealthy butcher, Joseph Davis. The building is now owned by Bayside Council.
No. 73 Frederick Street
"LINDCLUDEN", 1893, is a late Victorian stone house, once the home of the General Manager of the Australian Gas Light Company. A two-storey Federation style house with timber shingles.
Turn right into Linwood Avenue which contains modest Federation style dwellings. Turning into Harrow Road:-
No. 50 Harrow Road
"ST. ELMO" built in 1897 for Joseph Palmer, a railway official. It was designed by William Kenwood and is transitional in style between Victorian and Federation.
No. 25-37 Harrow Road
A row of houses designed by William Kenwood and built in 1894 for property developer, Thomas Saywell who developed Brighton-Le-Sands. Note each house is named after an English Castle.
No. 2 Beaconsfield Street
"BAYVIEW LODGE", home of Sir George Reid, former Premier of N.S.W., Prime Minister of Australia and member of House of Commons.
No. 77 Harrow Road
"ITALIA", once the home of marble importer, Frederick Gagliardi, contains marble floors and a cellar.
Turn left into Watkin Street.
No. 36 Watkin Street
"THE GABLES", a Federation style house built in 1915, it features a gable roof with turret and was once the home of Frederick W Beehag, former Mayor of Rockdale.
Continue along Watkin Street and Frederick Street, noting the Federation houses, back to Rockdale Railway Station.
---
History
The Rockdale District was first developed as an agricultural area on the fringe of Sydney. The first land grants being given by Governor Macquarie in 1809.
Roads were cut through the forest and a dam built by convict labour in 1839 across the Cooks River enabled access to the district from Sydney. I lowcvcr it was the railway from Sydney to Rockdale opened in 1884, and the private tramway along Bay Street to Brighton which enabled land speculation. A number of villas and house resulted being built along the transport routes.
The latter use of the car enabled more land to be developed and "filled in" with houses.
In 1991 a Heritage Study was completed for the City of Rockdale. The Study outlined the history and development of the area and recommended buildings, parks and natural areas to be preserved.
Architectural Styles
Most heritage houses and conservation areas in Rockdale are Victorian, Federation or Californian Bungalow in architectural style.
The Victorian House (1840-1890)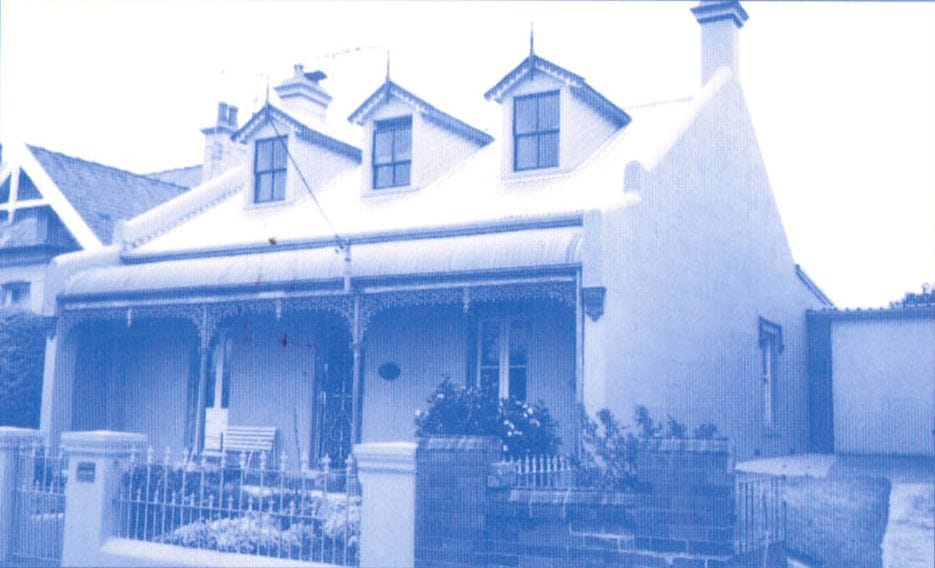 The average Victorian house in Rockdale was detached and single storey. The plan was asymmetrical with principal rooms having high ceilings. A verandah with it's own roof on one side and the principal room, a parlour or drawing room projecting under a hipped or gabled roof on the other side. Walls were usually plastered and painted, roofs iron or slate.
The Federation House (1890-1915)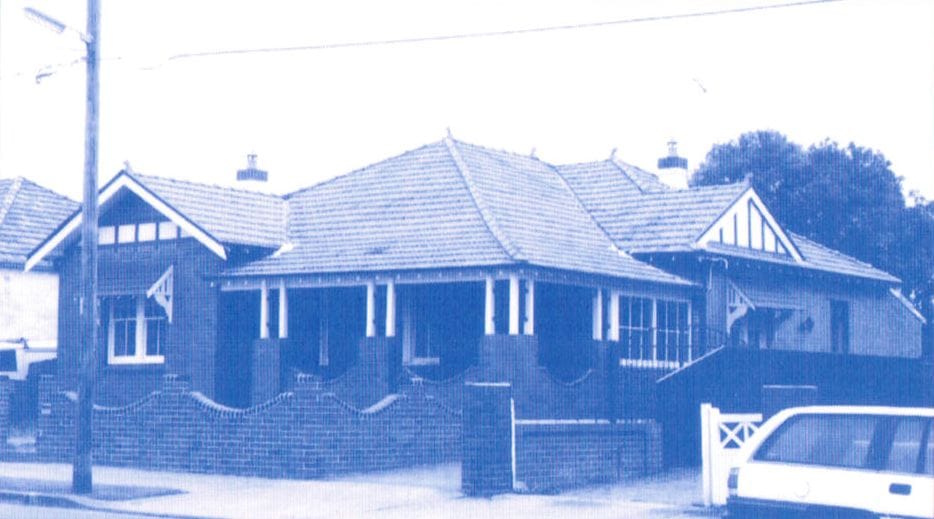 Often had the same Victorian house plan, but materials changed radically to include red brick walls and red tiled roofs.
The Californian Bungalow (1915-1940)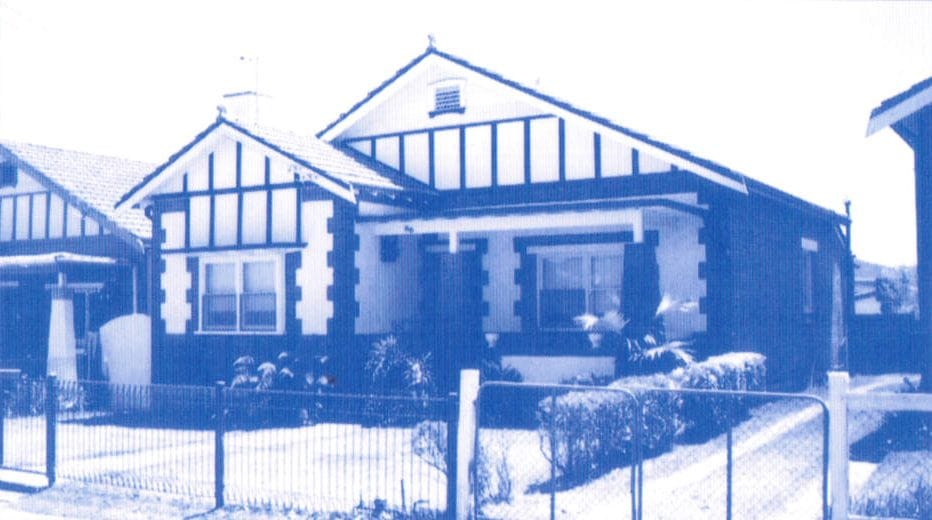 These houses were informal, asymmetrical, spread out structures, fronted by a deep verandah; materials; materials were dark liver coloured bricks, cedar shingles, stone stairs and leadlight windows.