Magazine
Our History is the periodical of the St George Historical Society.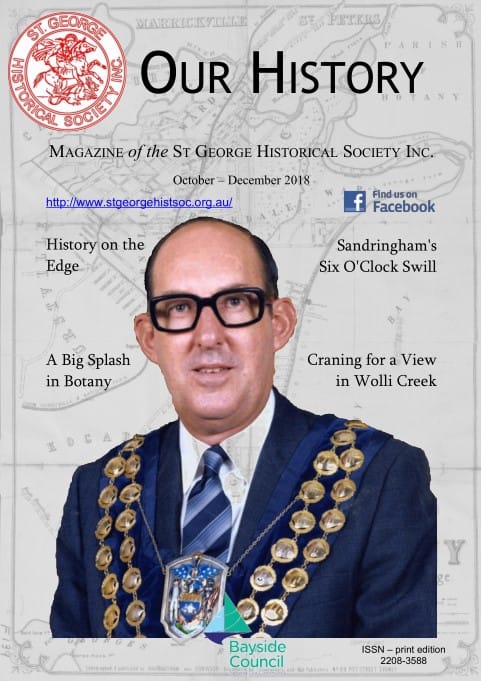 The magazine has news and reports of historical interest. Upcoming events hosted by the SGHS and organisations including Bayside and Georges River Councils are listed.
Financial SGHS members receive the current edition by email or post. To view the additional benefits of membership and join the society, visit the Join Us page.
The archive of over 400 editions is now available to download in PDF format.
To access the latest editions, visit the Join Us page.
October 2018
July 2018
April 2018
January 2018
October 2017
July 2017
April 2017
January 2017
October 2016
July 2016
April 2016
January 2016
October 2015
July 2015
March 2015
January 2014
June 2013
January 2013
May 2012
January 2012
August 2011
January 2011
May 2010
January 2010
August 2009
January 2009
April 2008
January 2008
July 2007
April 2007
January 2007
October 2006
July 2006
April 2006
January 2006
September 2005
June 2005
March 2005
January 2005
November 2004
September 2004
July 2004
May 2004
March 2004
January 2004
November 2003
September 2003
July 2003
May 2003
March 2003
January 2003
November 2002
September 2002
July 2002
May 2002
March 2002
January 2002
November 2001
August 2001
June 2001
April 2001
February 2001
November 2000
September 2000
July 2000
May 2000
March 2000
January 2000
November 1999
September 1999
July 1999
May 1999
March 1999
January 1999
November 1998
September 1998
July 1998
May 1998
March 1998
January 1998
November 1997
July 1997
May 1997
March 1997
December 1996
October 1996
August 1996
June 1996
May 1996
April 1996
February 1996
November 1995
September 1995
July 1995
May 1995
March 1995
December 1994
October 1994
August 1994
June 1994
April 1994
February 1994
November 1993
September 1993
July 1993
May 1993
March 1993
December 1992
October 1992
August 1992
July 1992
June 1992
May 1992
April 1992
March 1992
February 1992
December 1991
November 1991
October 1991
September 1991
August 1991
July 1991
June 1991
May 1991
April 1991
March 1991
February 1991
December 1990
November 1990
October 1990
September 1990
August 1990
July 1990
June 1990
May 1990
April 1990
March 1990
February 1990
December 1989
November 1989
October 1989
September 1989
August 1989
July 1989
June 1989
May 1989
April 1989
March 1989
February 1989
December 1988
November 1988
October 1988
September 1988
August 1988
July 1988
June 1988
May 1988
April 1988
March 1988
February 1988
January 1988
December 1987
November 1987
October 1987
September 1987
August 1987
July 1987
June 1987
May 1987
April 1987
March 1987
February 1987
January 1987
December 1986
November 1986
October 1986
September 1986
August 1986
July 1986
June 1986
May 1986
April 1986
March 1986
February 1986
January 1986
December 1985
November 1985
October 1985
September 1985
August 1985
July 1985
June 1985
May 1985
April 1985
March 1985
February 1985
January 1985
December 1984
November 1984
October 1984
September 1984
August 1984
July 1984
June 1984
May 1984
April 1984
March 1984
February 1984
January 1984
December 1983
November 1983
October 1983
September 1983
August 1983
July 1983
June 1983
May 1983
April 1983
March 1983
February 1983
January 1983
December 1982
November 1982
October 1982
September 1982
August 1982
July 1982
June 1982
May 1982
April 1982
March 1982
February 1982
January 1982
December 1981
November 1981
October 1981
September 1981
August 1981
July 1981
June 1981
May 1981
April 1981
March 1981
February 1981
January 1981
December 1980
November 1980
October 1980
September 1980
August 1980
July 1980
June 1980
May 1980
April 1980
March 1980
February 1980
January 1980
December 1979
November 1979
October 1979
September 1979
August 1979
July 1979
June 1979
May 1979
April 1979
March 1979
February 1979
January 1979
December 1978
November 1978
October 1978
September 1978
August 1978
July 1978
June 1978
May 1978
April 1978
March 1978
February 1978
January 1978
December 1977
November 1977
October 1977
September 1977
August 1977
July 1977
June 1977
May 1977
April 1977
March 1977
February 1977
January 1977
December 1976
November 1976
October 1976
September 1976
August 1976
July 1976
June 1976
May 1976
April 1976
March 1976
February 1976
January 1976
December 1975
November 1975
October 1975
September 1975
August 1975
July 1975
June 1975
May 1975
April 1975
March 1975
February 1975
January 1975
December 1974
November 1974
October 1974
September 1974
August 1974
July 1974
June 1974
May 1974
April 1974
March 1974
February 1974
January 1974
December 1973
November 1973
October 1973
September 1973
August 1973
July 1973
June 1973
May 1973
April 1973
March 1973
February 1973
January 1973
December 1972
November 1972
October 1972
September 1972
August 1972
July 1972
June 1972
May 1972
April 1972
March 1972
February 1972
January 1972
December 1971
November 1971
October 1971
September 1971
August 1971
July 1971
June 1971
May 1971
April 1971
March 1971
February 1971
January 1971
December 1970
November 1970
October 1970
September 1970
August 1970
July 1970
June 1970
May 1970
April 1970
March 1970
February 1970
December 1969
November 1969
October 1969
August 1969
July 1969
June 1969
May 1969
April 1969
March 1969
February 1969
December 1968
November 1968
October 1968
September 1968
August 1968
July 1968
June 1968
May 1968
April 1968
March 1968
February 1968
December 1967
November 1967
October 1967
September 1967
August 1967
July 1967
June 1967
May 1967
April 1967
March 1967
February 1967
January 1967
December 1966
November 1966
October 1966
September 1966
August 1966
July 1966
June 1966
May 1966
April 1966
March 1966
February 1966
December 1965
October 1965
August 1965
June 1965
April 1965
February 1965
December 1964
October 1964
August 1964
June 1964
April 1964
February 1964
December 1963
October 1963
August 1963
June 1963
April 1963
February 1963
December 1962
October 1962
August 1962
June 1962
April 1962
February 1962